WHO WE ARE
Traditional, but always innovating in technological, environmental and social development. This statement defines Ingenio San Carlos, which is located in the Guayas province. Its current land extension is 28.000 hectares of sugar cane, distributed among the cantons of Marcelino Maridueña, Naranjito and El Triunfo.
MISSION
We are an organization that having a superb human talent within a favorable work environment, produce, transform and market high quality agricultural products and clean energy for society, contributing to economic and social development of our surroundings.
VISION
To be leaders in production and marketing of functional and sustainable products and services, through constant, yet responsible innovation with a committed human talent, generating jobs, profit and wellbeing for everyone.
Productivity, quality and environmental commitment
Do everything possible to enhance our product and processes quality, thus improving our productivity, by putting environmental protection and our personnel's safety and health as our priority.
Honesty and candor
Act under ethical standards, in an openly workplace that allow people to share their own ideas and feelings.
Equity
Give everyone equal treatment, inside their teams, colleagues and superiors, without discrimination or prejudice.
Respect
Towards every member of the firm, as individuals, as leaders and as coworkers.
Joy and motivation
Work with joy and transmit other that sense of pleasure, which allows us to be an enterprise characterized by its positive people.
Continuous personal development
Keep up to date their technological knowledge and improvement processes of their skills and abilities.
SAN CARLOS ESTATE
The 19th century estate has become one of the main agroindustry complexes in Ecuador, producing around 2 million metric tons of sugar cane.
San Carlos grow between 65 to 70% of the yearly cane it mills, buying the remainder to sugar cane farmers in its surrounding areas. Furthermore, it has roughly a 33% sugar market share in Ecuador, and fulfills exporting quotas to USA, Perú and other countries.
STAKEHOLDERS
The Company has been listed in the stock market for 25 years and there are a few shareholders with more than 10% of the company, which allows the directors to work with a very clear accountability vision. Currently, the share capital is of USD$133'000.000 among 981 shareholders.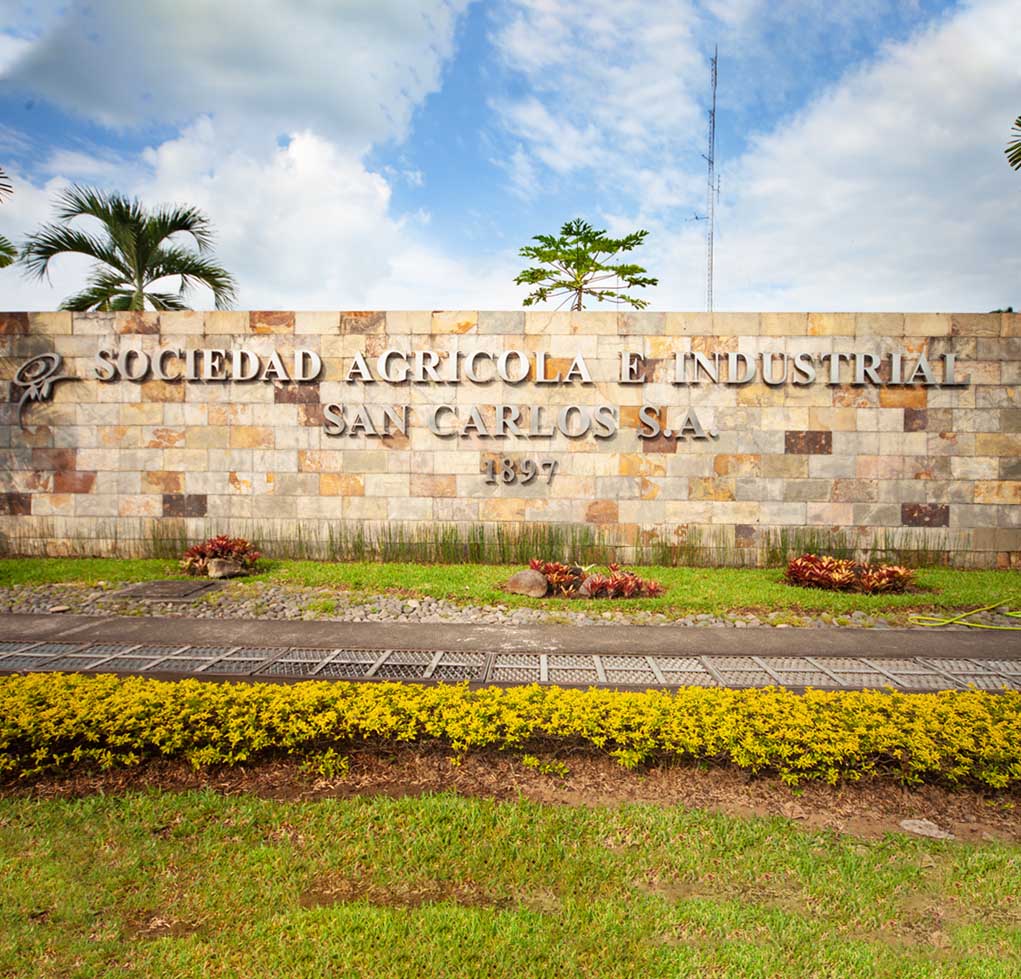 OUR HORIZON
Sociedad Agrícola e Industrial San Carlos (San Carlos Agricultural and Industrial Society) is present in the Ecuadorian industry as a company pursuing to be a referent and leader in terms of process management, people management, corporate social and economic responsibility nationwide.