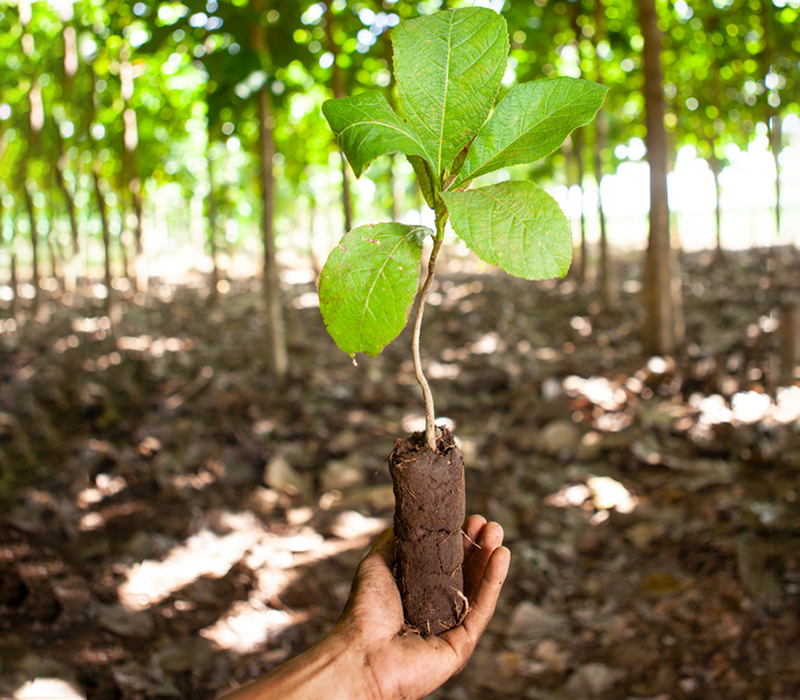 COMMITMENT
WITH DEVELOPMENT
Before the current Sustainable Development concept existed, San Carlos developed several strategies in favor of rational and sustainable use of natural resources. One of those strategies involved the total elimination of the use insecticides, preferring the usage of natural entomological controls, reducing any environmental impacts in the soil. Since the 80s several improvements were done in the factory, in order to achieve an eco-efficient water handling, through water recirculation. This involves selling our industrial waste to other companies that use them as raw materials of their own processes.
Inside its sustainability vision, San Carlos conducts another important activity: forestation, reforestation and forest maintenance for commercial and conservation purposes. San Carlos has registered in the Forest Administration Service 480 hectares of wetlands, 230 hectares of tropical humid forest, 360 hectares of reforested commercial species and 120 hectares of tree conservations species.
Besides, as private companies support ecosystem conservation, a preliminary survey of the biotic baseline and cartography has been conducted in the forest remnants, wetlands and San Carlos reservoir with help from Guayas Government's Environmental Administration, and the main findings are:
79 flora species were identified: 70 are native, 7 were introduced and 2 are endemic. Both endemic species are threatening danger: Verbesina and Beldaco.
In birdlife, by direct observation, 3 endemic species were identified in the dry forest: the Tortolita Ecuatoriana (Ecuadorian Little Dove), the Sotorrey Ondeado and el Hornero del Pacífico. By bird sound identification 3 species were identified of which 2 of are endemic (Periquito del Pacífico and Periquito Cachetigris).
In mammal fauna 2 species of bats were identified.
In herpetofauna 4 species were observed.
Ingenio San Carlos, in consequence, reduces its carbon footprint by the reforestation of intervened areas, conservation of natural forests and protection of the wetlands, reducing global warming effects are preserving our planet.